copyright © 2001 sattu.com | all rights reserved | sattu.com
micro blog
the silver quaich: a definitive collection of information on single malt scotch
sattu.com
micro blog
experiences
reach out
about








built with coda
P O S T S

Whisk(e)y Definition
SingleMalt.Tv
Drinking Whisky
Visiting Distilleries
Whisky or Whiskey
Size, Strength & Quantity
Difference: Scotch, Irish, Rye & Burbon
MacLean's Nosing Course
The Legal Definition Of Scotch Whisky
MacLean's 9 Steps To A Tasting Note
Making The Right Choice
How To Taste A Malt
A Matter Of Fact...

P O S T S
M A L T &nbsp R E V I E W S

The Classic Malts | Talisker 10 | Talisker 18 | Laphroaig 10 | Laphroaig 10 Cask Strength | Laphroaig Quarter Cask | Ardbeg 10 | Lagavulin 16 | Glenfiddich 12 | Glenfiddich 15 | Glenfiddich 18 | Glenfiddich 21 | Bruichladdich 10 | Rosebank 10 SV | Glenkinchie 10 | Caol Ila 12 | Bowmore Legend | Bowmore Enigma | Bowmore 12 | The Balvenie 12 | Cardhu 12 | Clynelish 14 | Glenlivet 12 | Oban 14 | Macallan 12 | Highland Park 12 | Singleton of Dufftown 12 | Lismore | Amrut Single Malt
SingleMalt.TV

An internet TV channel devoted to 24-hour coverage of the world of single malt whisky is being launched on September 29, 2006 - www.SingleMalt.tv by a Hollywood producer - Rob Draper.

Draper told the "Scotsman": "Internet television is the future. So far the interest has been phenomenal - we put a place-holder website up on the web and we have already shut down one server in the United States because it can't handle the volume of traffic coming into it."

"Singlemalt.tv is not an internet site, it is a television channel broadcast through the internet. I have done a lot of work on internet television going back to 1997 and it really is the future of television and the future of internet."

Source: www.SingleMalt.tv

---End of Post---
Treasures of India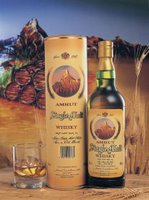 Amrut Single Malt Whisky is made from select Indian malted barley grown in Punjab and Rajasthan, the north-west frontier states of India. In Punjab, the waters from the great Himalayas flow through the river Sutlej and irrigate the land under the Bhakra Nangal dam scheme. The cold winters and fiery summers create a unique quality of barley, rich in flavour. Malting takes place at maltsters
Whisk(e)y

Whisk(e)y - A spirituous liquor distilled from a fermented mash of grains (usually rye, barley, wheat or corn), matured in wooden casks, usually for 3 years or more. Inferior grades are made from potatoes, beets, or other roots. Scotch whisky, usually blend, takes its dry, somewhat smoky flavour from the barley malt, cured with peat, used in its preparation. The somewhat similar Irish whiskey, for which no peat is used, has a full, sweet taste. American whiskeys, classified as rye or as bourbon (a corn liquor), are higher in flavour and deeper in colour than Scotch or Irish whiskeys. Canadian whiskey, characteristically light, is produced from cereal grain only. First distilled in monasteries in 11th century England, whiskey has been manufactured commercially since the 16th century.

First of all: There are three main categories of Scotch whisky; malt whisky, grain whisky and blended whisky. One of the characteristics that all three of them share is the fact that they have matured for at least three years;
Drinking Whisky

There is no right or wrong way to drink Scotch whisky - it's all down to personal taste at the end of the day.

However, there are a few suggestions:

Neat - People say they do not want to spoil the taste by adding water. However...

Adding Water - Equal number of people will say that adding a dash of pure soft spring water water, (ideally the same spring water used in the making of the particular whisky - expensive affair i'd say) enhances the aroma and flavour of a whisky. Tap water generally contains high amounts of chlorine and therefore is not a good complement to any whisky - best bet is to opt for bottled Scottish mineral water!

Adding ice to a malt whisky is such a shame because it will only dull the fine taste and wonderful aromas. Similarly, carbonated water is not an ideal accompaniment for whisky as it may interfere with the aromas also. Adding
in Jaipur and Delhi to the exacting standards laid down by Amrut Distilleries Ltd. The malted barley is then transported south to Bangalore where it is carefully mashed and distilled in small batches to preserve the natural aromas. The whisky then undergoes maturation in imported oak barrels for over three years in a unique tropical condition at a warehouse on the distillery premises in Bangalore, the Garden City of India, which is at an altitude of 3,000 ft above sea level and enjoying a salubrious climate all year round.This unique natural geographical location allows an intense maturation process, by losing considerable amount of whisky as the "Angel's share". To maintain the natural character of the product, the whisky is not chill filtered. Therefore, there may be mild cloudiness on dilution which is natural for all classic malts.

Source: Amrut Whisky

---End of Post---
a minimum set by British law. Anything younger than 3 years isn't 'whisky'.

By far the most whiskies that go over the counter at your local liquorist are BLENDED WHISKY - a 'blend' of roughly 2/3 grain whiskies combined with about 1/3 malt whiskies from several different distilleries to form a drink that applies to the tastes (and wallets) of as many people as possible.

The less said about GRAIN WHISKY the better, if you ask me. It's made from a mash of cereal grains (usually barley, wheat and maize). Both malted barley (barley which has started to germinate before it was dried to stop the germination) and unmalted barley (barley which remains dormant) are used in the production of grain whisky. Grain whisky is distilled in a continuous process, using so-called 'Coffey Stills'. Unless casked and aged properly, the end result often resembles the revolting Dutch drink Jenever (gin).

My personal favourite 'type' of whisky is MALT WHISKY - produced from 100% malted barley (fermented with yeast) and
mixers such as ginger ale and even coca cola, is a popular trend, however it begs the question - why drink whisky at all if you need to mask the taste? I'd say it's an insult to single malt whisky.

---End of Post---
Visiting Distilleries

No visit to Scotland is complete without a visit to a working Scotch Malt Whisky Distillery. How better to capture the true spirit of the nation? From mountain to glen and island to lowland, you'll find beautifully sited distilleries still dispensing individual charm, history and the local 'water of life'. All waiting to be discovered, wherever you are in Scotland.

So if you are ever in Scotland and wish to visit the distilleries make sure you have a copy of Visiting Distilleries, the book which helps whisky enthusiasts learn more about the malt whisky distilleries in Scotland and Northern Ireland which actively welcome visitors. Furthermore, the book is a publication of a journey to 40 malt distilleries, one cooperage and two other related facilities with critical and objective analysis of what is on offer for the visitor.

---End of Post---
distilled in traditional 'pot stills'. No other grain product or fermentable material is allowed. Finally, we have SINGLE MALT WHISKY - the product from one single distillery, which has not been blended with whisky from any other distillery. Only plain water is added before it is bottled, and in the case of so-called 'cask strength' bottlings not even that. There are bottlings with an alcohol-percentage of well over 60% available!

---End of Post---
Laphroaig 10 Year Old Original Cask Strength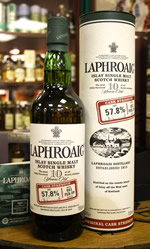 Awarded Best Single Malt in the World in 2005 by Whisky Magazine, Original Cask Strength Laphroaig is bottled at natural distillery strength with all the depth of genuine taste and texture
Lagavulin 16 Year Old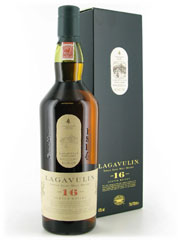 Since 1816, Lagavulin single malt Scotch whisky has been made in a picturesque huddle of buildings on Lagavulin Bay. Perhaps the most beautifully situated of distilleries, Lagavulin makes arguably the most intense, smoky and rich whisky of all. For many, this is the
Talisker 10 Year Old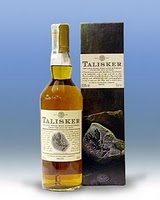 Talisker is the only distillery on the Isle of Skye, and takes its name from a farm some miles away nearer the village of Carbost.

It was started in 1843 by Hugh and Kenneth MacAskill from Eigg. Hugh was a tacksman (senior tenant farmer, who leased land to others) and acquired the lease of Talisker House and estate of
normally associated with sampling whisky at source.

Laphroaig is matured in seasoned oak barrels, charred before filling to impart a slight sweet vanilla nuttiness. Original Cask Strength Laphroaig is barrier-filtered only just, to remove the small char particles present. This means you will enjoy Laphroaig exactly as they made it. In extremes of temperature and when you add water it may appear a little cloudy - this is the natural condition of a malt of such a peaty pungence and uncompromising purity.

Adding a little water releases a rich aroma of peat smoke with some sweetness and strong hints of the sea. Emphatic, full bodied and utterly unforgettable. Simply 'The Best'.

Laphroaig Cask Strength has been voted "The Best of The Best" Single malt by over 100 judges in 5 countries testing malts in a "blind tasting" - all the samples were given to them without knowing which whisky they were testing. Read the extract from the defining Whisky Magazine (March issue #46) article.
definitive Islay malt.

Above all, Islay means peat. Miles and miles of peat bog in the west of the island provide the raw material whose influence so characterises the south eastern Islay malts, of which Lagavulin™ is perhaps best known. Lagavulin's™ rich peaty water runs down the brown burn to the distillery from the Solan Lochs in the hills above the distillery.

There's nothing rushed about Islay, nor is there about Lagavulin™; before being bottled, the malt spends sixteen unhurried years maturing in oak casks, the longest maturation period for any of the Classic Malts offerings.

Long fermentation, long distillation and long maturation together ensure that Lagavulin develops all of its long, rich, peaty character. It's is a spirit that likes to take its time. The definitive Islay malt demands nothing less.

Tasting Notes

REGION: Islay.
COLOUR: Deep amber gold.

Macleod of Macleod.

After the brothers' deaths the distillery was eventually acquired by a partnership between Grigor Allan, Procurator Fiscal of Morayshire, and Roderick Kemp, a wine and spirits merchant, and substantial sums of money were invested in rebuilding and refitting the distillery. By this time the whisky was gaining a reputation for itself. Robert Louis Stevenson mentioned it in a poem, 'The Scotsman's Return from Abroad' in 1880, "The king o' drinks, as I conceive it,Talisker, Islay or Glenlivit"

In 1892, Kemp bought the Macallan Distillery on Speyside and Allan took over the entire ownership of Talisker which merged it with Dailuaine to form the Daluaine-Talisker Distilleries Ltd. This company extended the premises at Talisker, built a pier, a tramway to link it to the distillery and houses to accommodate the employees and officers.

In 1925 through a previous merger with some of the founding memders of the 'big five' the distillery became fully owned by United Distillers. The
Tasting Notes

To taste Malt Whisky add a few drops of water to help awaken the bouquet of the malt and bring out the aromatics.

REGION: Islay.
COLOUR: Rich deep gold.
NOSE: Very powerful, "medicine", smoke, seaweed and ozone characters overlaying a sweetness.
BODY: Full and strong.
PALATE: A massive peated burst of flavour with hints of sweetness at the end.
FINISH: Long and savoury.
ABV: 57.8%

Source: Laphroaig

---End of Post---
NOSE: Intense peat smoke with iodine and seaweed and a rich, deep sweetness.
BODY: Full
PALATE: A rich, dried fruit sweetness with clouds of smoke and strong, barley-malt flavours, warming and intense. At the back of the mouth is an explosion of peppery smoke.
FINISH: Huge, long, warming and peppery with a distinch appetising sweetness and a bear hug of peat.
ABV: 43%

Source: www.malts.com

---End of Post---
distillery was partly rebuilt in 1960 after a fire and its own floor maltings were demolished in 1972. One of the original features of the distillery is the presence of traditional condensers.

In 1988/89, the brand was chosen by United Distillers for their Classic Malts series.

Tasting Notes

REGION: Islands
COLOUR: Brilliant gold with amber glint.
NOSE: Powerful peat-smoke with just a hint of sea-water saltiness, fresh oysters, and a citrus sweetness.
PALATE: A rich dried-fruit sweetness with clouds of smoke and strong barley-malt flavours, warming and intense. Peppery at the back of the mouth.
BODY: Full
FINISH: Huge, long, warming and peppery in the finish with an appetising sweetness.
ABV: 45.8%

Source: www.malts.com

---End of Post---
Whisky or Whiskey?

There has always been a a big issue over the spelling - whisky or whiskey. People have their own interpretations on the usage - albeit not a single person will ever be able to correctly explain why. Wikipedia has a definitive explaination... read on.

Whisky comes from the Gaelic uisce/uisge beatha meaning "water of life". The name itself may have originally derived from the Scandinavian aquavit; although it may also be modelled on the Latin phrase aqua vitae or the early name for brandy, aqua de vite, meaning "water of the vine".

The spelling whisky (plural whiskies) is generally used for whiskies distilled in Scotland, Wales, Canada, and Japan, while whiskey is used for the spirits distilled in Ireland. A 1968 directive of the Bureau of Alcohol, Tobacco, Firearms and Explosives (ATF) specifies "whisky" as the official U.S. spelling, but allows labelling as "whiskey" in deference to tradition; most U.S. producers still use the latter spelling.


Size, Strength & Quantity

Sizes of casks used for bulk production and their respective capacities.

Butt Casks : 500 Litres
Hogshead Casks : 250-305 Litres
American Barrel Casks : 173-191 Litres
Quarter Casks : 127- 159 Litres
Octave Casks : 45-68 Litres


Comparison of British and European alcohol by volume strengths to US proof strength.

50% ABV = 100° Proof
43% ABV = 86° Proof
40% ABV = 80° Proof


Liquid content of the bottles most commonly used for Scotch whisky sales.

Bottle = 70cl / 700ml
Half-bottle = 35cl / 350ml
Miniature = 5cl / 50ml


---End of Post---
The Difference Between Scotch, Irish, Rye and Bourbon Whiskies

Scotch whisky is whisky which has been distilled and matured in Scotland. Irish whiskey means whiskey distilled and matured in Ireland. Whisky is distilled in Scotland from malted barley in pot stills and from malted and unmalted barley or other cereals in patent stills. The well-known brands of Scotch whisky are blends of a number of pot still and patent still whiskies. Irish whiskey distillers tend to favour three distillations rather than two, as is general in Scotland in the case of pot still whiskies, and the range of cereals used is wider.

As regards Bourbon whiskey, the United States regulations provide: 1. That Bourbon whiskey must be produced from a mash of not less than 51% corn grain. 2. That the word Bourbon shall not be used to describe any whiskey or whiskey-based distilled spirits not produced in the United States.

Rye whiskey is produced both in the United States and Canada but the name
In the late Victorian era, Irish whiskey was the world's whiskey of choice. Of the Irish whiskies, Dublin whiskies were regarded as the grands crus of whiskeys. In order to differentiate Dublin whiskey from other whiskies, the Dublin distilleries adopted the spelling "whiskey". The other Irish distilleries eventually followed suit. The last Irish "whisky" was Paddy, which adopted the "e" in 1966.

A mnemonic used to remember which spelling is used is that "Ireland" and "United States" have at least one "e" in their names, while "Scotland", "Canada" and "Japan" do not.

---End of Post---
Charles MacLean's Nosing Course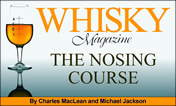 Charles MacLean, editor of Whisky Magazine and Scotland's leading whisky writer published a set of 5 articles on nosing and tasting in the first 5 issued of Whisky Magazine. The focus of these articles was to help the enthusiast understand the signals when you nose and taste a whisky and interpret them the way the experts do and make notes on your favourites. It also accompanies a special note from Michael Jackson on the criteria he uses while assessing and rating a whisky.

Source: Introduction to the Nosing & Tasting Course

---End of Post---
has no geographical significance. In the United States, rye whiskey by definition must be produced from a grain mash of which not less than 51% is rye grain.

In Canada, there is no similar restriction. The relevant Canadian regulation states: Canadian Whisky (Canadian Rye Whisky, Rye Whisky) shall be whisky distilled in Canada, and shall possess the aroma, taste and character generally attributed to Canadian Whisky. Canadian whisky is in fact often referred to simply as rye whisky or rye.

---End of Post---
Lismore "Pure Single Highland Malt"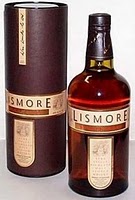 On a random visit to Trader Joe's (in San Jose, California), I came across this bottle of Lismore labeled "Pure Single Highland Malt". My first surprise was the unbelievably low price of US $18. My second surprise was that it was actually not bad! Not to my personal choice of taste though.

Lismore is bottled by Wm Lundie &
The Legal Definition Of Scotch Whisky

Scotch whisky has been defined in United Kingdom (UK) law since 1909 and recognised in European Community legislation since 1989. The current UK legislation relating specifically to Scotch whisky is The Scotch Whisky Act 1988 and the Orders made under it, which came into effect in June 1990 and superseded that part of the Finance Act 1969, as subsequently amended, defining Scotch whisky. For the purposes of The Scotch Whisky Act 1988 "Scotch Whisky" means whisky:

Which has been produced at a distillery in Scotland from water and malted barley (to which only whole grains of other cereals may be added) all of which have been: (a) processed at that distillery into a mash (b) converted to a fermentable substrate only by endogenous enzyme systems and (c) fermented only by the addition of yeast.

Which has been distilled at an alcoholic strength by volume of less than 94.8 per cent so that the distillate has an aroma and taste derived from the raw
Charles MacLean's 9 Steps To A Tasting Note

First make a note of these...

1. Distillery/Brand .1

2. Age .2

3. Strength .3

Then describe these...

Appearance (Colour; Texture; Clarity) .4

Aroma (Straight) (Intensity on a scale .5 of 1-5; Nose-feel; Cardinal aromas)

Aroma (diluted) (Primary aromas; .6 Secondary aromas; Development)

Flavour (Mouth-feel; Primary taste; .7 Overall flavour; Finish)

Comments .8

Score (1-10) .9

---End of Post---
Company, and is available in a wide variety of bottlings, mainly blends. Unfortunately there is no indication of the source of this malt. Although this bottling was not that great, I have heard that there are 8, 12, 21 and 25-year-old bottlings of Lismore single malt that are very well worth trying.

Tasting Notes

REGION: Highlands (Speyside)
COLOUR: Deep Gold
NOSE: Malt, Toffee
PALATE: Sweet, Lightly Floral
BODY: ?
FINISH: Abrupt, Rather Tarty
ABV: 40%

---End of Post---
materials used in, and the method of, its production.

Which has been matured in an excise warehouse in Scotland in oak casks of a capacity not exceeding 700 litres, the period of that maturation being not less than 3 years.

Which retains the colour, aroma and taste derived from the raw materials used in, and the method of, its production and maturation, and to which no substance other than water and spirit caramel has been added.

The Scotch Whisky Act 1988 prohibits inter alia the production in Scotland of whisky other than Scotch whisky. The Scotch Whisky Act 1988 and The European Spirits Definition Regulation both specify a minimum alcoholic strength of 40 per cent by volume, which applies to all Scotch whisky bottled and/or put up for sale within or exported from the EU.

---End of Post---
Making The Right Choice

It is a well known fact that a significant portion of the flavours of a malt are a part of the alcohol content rather than the water content. You can very well expect a malt with 40% ABV to have less intense flavours than a malt that has 46% ABV or more.

If you are to buy a malt thats 10 years old or less, I suggest you try and stick with an ABV of 46% or more if available as they will have more intense flavour than a 40% ABV counterpart.

I would also like to point out that any malt in a bottle that is over 75-85% empty will probably change its character over a period of time due to exposure to air. Moreover if its exposed to air, light and heat for a relatively long period the change in the character is very distinct. It will not go bad like wine does but it will certainly change its character. Therefore, its better to finish the bottle once it reaches the 75-85% mark rather than keep it in the bar.

---End of Post---
How To Taste A Malt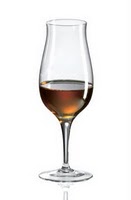 Get some single malt whisky. To begin, try some of your friends' favorite whiskies or go to a whisky bar and ask for recommendations. If these options are not available, go to your local liquor store and pick up a cheaper bottle such as Laphroiag 10 Year Old, Balvenie 12 Year Old Double Wood, or Glenmorangie 10 Year Old.


The Classic Malts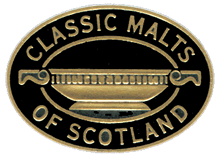 The Six Classic Malts of Scotland have been carefully selected to best represent the malt whisky producing regions of Scotland. Each is unique as a result of distinct water supplies, barley and distillery still formations and together they embrace the full diversity of regional tastes and styles.

The six main whisky producing areas which distil malt whisky are influenced by their specific location and traditions. The island malts from Skye, Jura, Mull and Orkney are characterised by a
Experts Crown Talisker The Worlds Best Single Malt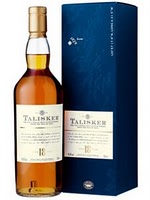 April 2007

Talisker 18 year old was declared the world's Best Single Malt Whisky by a panel of whisky experts yesterday in Glasgow. The famous single malt whisky distilled on the remote island of Skye emerged as overall winner in the World Whiskies Awards, who announced their
Buy a good glass. The tulip glass is the preferred style because it focuses the aromas and splashes the spirit onto the tongue in a wide fashion. Some whisky drinkers prefer tumblers or snifters. Pour yourself a dram. Depending on your experience and how much you want to drink, this amount can be anywhere from half an ounce to two ounces.

Tilt and turn the glass. Let the whisky coat the glass so that it can evaporate easily. Observe the consistency as it sticks to the sides of your glass. Nose the whisky. Place your nose a few inches away from the glass. What do you smell? Now get a little closer. How is that? Now get as close as you can without letting the alcohol burn interfere. What other aromas are there?

Add water (optional): as much as half-and-half or as little as a few drops. Adding water depends on the strength and style of the whisky and the taster's preference. Regular bottles contain 40% to 46% alcohol by volume (ABV) while "Cask strength" whiskies are stronger and require more water. Avoid tap water, because the chlorine will interfere
peaty, smoky nose and flavour. The island of Islay, off Scotland's west coast, is home to many distinctive malts, with the sea air and peat combining to create the distinctive Islay tang found in many blended whiskies. The Highlands are the biggest malt whisky producing region and offers the widest variety of malts. Northern highland malts are generally sweeter and have more body than their lowland relations. The malt whisky produced in the Lowlands has always been lighter and drier in character than that from the Highlands, which is why these malts make such excellent aperitifs. Speyside malts are the sweetest whiskies, with a rich and complex flavour which, once recognised, is easy to identify. Formerly the home to nearly 30 distilleries in the past, the West Highland style of malts are generally mellow, un-peated and mostly fruity.

The Six Classic Malts of Scotland

Lowlands : Glenkinchie 10 Year Old
W. Highlands : Oban 14 Year Old
Speyside : Cragganmore 12 Year Old
Islands : Talksker 10 Year Old
Islay : Lagavulin 16 Year Old

results after three rounds of blind tasting by independent whisky experts. Chaired by whisky expert Dave Broom, the World Whiskies Awards are organized by Whisky Magazine, the leading specialist publication on world whiskies.

One judge commented: "Whisky doesn't get much finer than this". In the latest World Whiskies Awards rankings, Talisker 18 year old was also declared Best Island (non-Islay) single malt whisky. The award for Best Islay (peated) single malt whisky went to another Classic Malts Selection™ single malt whisky, Lagavulin™ Distillers Edition.

Among the sub-category winners, Talisker 10 year old was awarded Best Island (non-Islay) single malt whisky under 12 Years Old. Caol Ila™ 8 year old was declared Best Islay (unpeated) single malt whisky under 12 Years Old.

This latest accolade follows last year's announcement that the International Wine & Spirit Competition had awarded Talisker 18 year old the Trophy for the Single Malt Scotch Whisky over 15 years old.
with the taste. It is a good idea to add water slowly and watch as it "marries" with the whisky.

Gently agitate the whisky in the glass and nose it again. Change the angle and distance of the glass to pick up all of the subtle aromas. Continue this for a few minutes while the water marries with the whisky and releases additional aromas you may not have noticed at first. If you have added water, have patience. It takes a good amount of time before the whisky and water are completely married.

Take a sip. Take just enough to coat your mouth and begin to slowly swirl it around your tongue. Feel the consistency of the whisky. Some feel thicker, oilier, or grittier than others. This is referred to as the "mouthfeel." Try and coat your tongue so that the whisky touches all of your taste buds. Taste the whisky. Try to hold the whisky in your mouth as long as it takes to notice all of the different flavors.

Swallow but try not to open your mouth or close your throat. Let in a tiny amount of air through your mouth and breathe
N. Highlands : Dalwhinnie 15 Years Old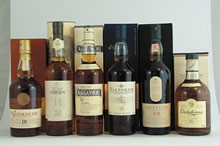 If you are a seasoned malt whisky drinker or a first time taster on a voyage of discovery, the Classic Malts are the perfect entry to this wonderful world. It should come as no surprise to visitors to any of the distilleries that they are invariably set in some of the most spectacular scenery Scotland has to offer: it is only fitting, after all, that usige beath, the water of life, is made in God's country.

Source: www.malts.com

---End of Post---
Talisker™The distillery was built in 1830 by Hugh and Kenneth MacAskill, beside Loch Harport. The name comes from the Norse, "Thalas Gair", meaning "Sloping Rock". The whisky was already famous by 1880 as "The king o'drinks..." (R. L. Stevenson). The 10 year old expression of Talisker is the most award winning single malt in its class. It is the only single malt Scotch Whisky made on the island of Skye. Talisker forms part of the Classic Malts Selection - see www.malts.com. The 18 year old expression was added to the Talisker family in 2004.

Judges comments include: "Elegant with fascinating balance between smoke and subtle sweet fruit. Ever changing in the glass and on the palate. Gentle waves of flavour, superb balance and a classic peppery finish. Seamless." Dave Broom

"Baked orange pudding sprinkled with cinnamon, pomanders and a trace of manila envelope. A silky mouth feel and develops into richer orange marmalade with burnt edges" Annabel Meikle

"Toffee and rich peat smoke on the nose. The alcohol bite on the palate gives way
through your nose slowly as the fumes rise up into your sinuses. You may notice different flavors. This is called the "finish." Once the flavors subside, breathe normally.

Repeat until all of the whisky is gone. Notice how the flavors and aromas change throughout your session.

Source: WikiHow

---End of Post---
A Matter Of Fact...

When at a bar or pub, whisky purists order their drinks "neat", meaning without a mixer such as soda, water or ice. Neat is the recommended way to order whisky, even if you simply prefer to add water yourself. "Straight up" can result in confusion since some bartenders may interpret it as shaken with ice which is a common martini technique. "On the rocks" refers to pouring over ice.

The use of water is common to open up the flavors of the spirit. Most whiskies produce a deeper, more complex flavor with the addition of even tiny portion of water. Bottled water is preferred since the chlorine in tapwater can potentially taint the flavor of the whisky.

Whisky drinkers disagree about whether one should add ice to the whisky. Most believe that chilling with ice can unfavorably subdue the complex flavors of single malts. Others believe the ice changes the entire dynamic of whisky in a positive way. Feel free to make your own judgment.
to rich sweet peat smoke, some sea notes and plenty of peppery spice. Nicely rounded and complete. Some wood, too, suggesting its age. Like chewing honeycomb and smoky bacon at the same time. Long, spicy and peaty finish. Whisky doesn't get much finer than this." Dominic Roskrow

"Warm, rich and attractive. Leather, pipe-tobacco, sweet sherry and polished oak on the nose, followed by a good creamy texture and a warming finish. A very attractive dram." Keir Sword

Source: Diageo

---End of Post---
Experiment. Whisky tasting is a matter of practical wisdom and personal experience, not theory.

More expensive is not necessarily better. You can build an excellent Scotch collection with bottles under $70 each.

Older is not necessarily better. Aged whisky will mellow as it takes on more characteristics of the barrel and will concentrate over time as the alcohol evaporates.

Notice the relationship between the style of the whisky and the taste and complexity. Where is the distillery located (e.g. Islay, Speyside, Northern Highlands)? How old is it? Was it aged in a used Sherry or Bourbon cask? Was the malt peat-dried? Was it chill-filtered? Was spring water added or was it bottled at cask strength?

Whisky drinking is more enjoyable and more rewarding when you are relaxed and free of distractions.

Experiment with bigger and smaller sips to discover nuances to the taste.
Some whiskies needs time to breathe. After opening a new bottle, have a glass and then let it sit for a week or two. Notice the increased complexity. This is especially true for cask-strength bottles.

Write your own tasting notes. It will motivate you to find more nuances. It is not necessary to attach concrete names to the flavors (e.g. smoke, peat, sherry, fruit, toffee). Everyone experiences something different. It may remind you of a forest after rain or of a campfire on the beach. You may also describe it as dignified, evil, luxurious, or, if you can't find any words, complex.

Enjoy it with a few friends and compare experiences.

Also experiment with Non Scotch Single Malt Whiskeys if you get a chance.

Single malt whisky can be enjoyed on its own or paired with food. Some common suggestions are oysters, sushi and dark chocolate.

---End of Post---